HUMANITY [IN ME]
SERIE • NESTLÉ-MOLICO
In times when women converge to decision centers, HUMANITY [IN ME] is a series of short films directed by Paula Trabulsi, executive production by Patricia Weiss and screenplay by Monica Waldvogel, with inspiring stories about feminine values hat inhabit in all of us.
Our stories talk about it. Of people who have experienced the discovery of a power that they did not know in themselves, but which, exercised in its intensity, transformed their lives and those of those around them.
The series opens the inspired conversation that MOLICO is starting with the public about #OValorDoFeminino.
Watch the SERIE on YOUTUBE or on the SITE
Join the conversation on FACEBOOK
watch the DEBATE HERE

Mediated by Monica Waldvogel, the DEBATE on the VALUE OF THE FEMININE had the anthropologist Mirian Goldenberg, the philosopher Luiz Felipe Pondé, journalist Fernando Luna and Rachel Muller of Nestlé as guests.
TO TAKE CARE - Renato Godá
TO INTEGRATE - Guto Correia
TO COMPREHEND - Marcelo Presotto
TO SHELTER - Joana Mariani
TO TRUST - Marcelo Toledo
TO SENSITIZE - Carlos Perna
TO HUMANIZE - Marcos Lopes
TO SUPPORT - Gustavo Cunha
TO BALANCE- Claudia Colaferro
TO LISTEN - Wagner G. de Almeida
TO INSPIRE - Glauco Diogenes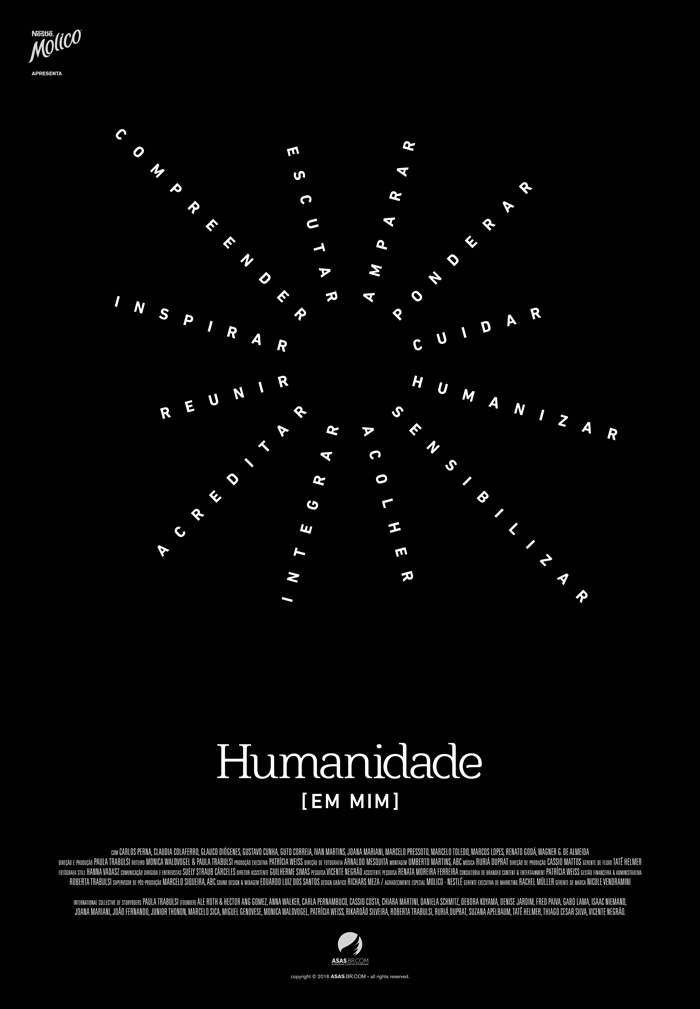 Director and Producer PAULA TRABULSI
Executive Producer PATRÍCIA WEISS
Script MONICA WALDVOGEL & PAULA TRABULSI
Director of Photography ARNALDO MESQUITA
Editor UMBERTO MARTINS, ABC
Music RURIÁ DUPRAT
Assistant Director GUILHERME SIMAS
Production Director CASSIO MATTOS
Still Photographer HANNA VADASZ
Focused Communication and Interviews SUELY STRAUB CÁRCELES
Creative & Strategic Consultants SUZANA APELBAUM, CHIARA MARTINI e DANIELA SCHMITZ
Social Media Creative Director KLEBER SILVEIRA
Research VICENTE NEGRÃO
Research Assistant RENATA MOREIRA FERREIRA
Head of Finance and Administrative ROBERTA TRABULSI
Lawyers DENISE JARDIM e GIL FALCÃO
Post Production Supervisor MARCELO SIQUEIRA, ABC
Sound Design & Mix EDUARDO LUIZ DOS SANTOS
Graphic Design RICHARS MEZA e CAMILA FONSECA
Branded Content & Entertainment Consultant PATRICIA WEISS
special thanks to RACHEL MULLER and NESTLÉ-MOLICO time